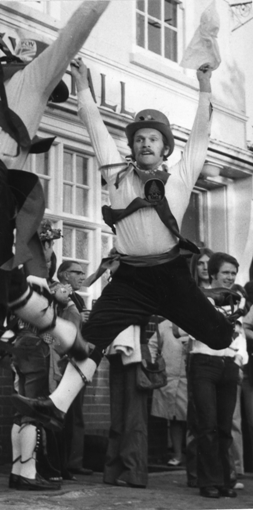 Flying Peter!
Welcome to the website of the Broadwood Morris Men, Horsham's favourite side since 1972!
Broadwood Morris Men was formed in 1972 and the Club is grateful to the late Captain Broadwood of Lyne for allowing us the privilege of adopting his family name in commemoration of his aunt, Lucy Broadwood who died in 1929.
Lucy lived at Lyne, near Rusper, during the latter half of the 19th century collecting folk music and customs concerning the same regions of Crawley and Horsham throughout which the Broadwood Morris Men now merrily meander. See the History section for more.
The Broadwood Morris Men take to the lanes of West Sussex to "Entertain and delight you with the intricacies of the English Morris*". Performing dances based on a centuries old tradition (using centuries old dancers) and visiting some of our favourite pubs, as we have since 1972, we invite you to join us to sample the best of English Traditional Dance, Music, Song and Ale.