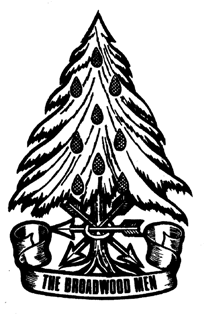 The Broadwood Badge
The Broadwood Kit
At the time Broadwood was formed in 1972, most Morris sides wore black knee britches, straw hats and baldricks (cross chest belts). The only distinguishing feature being the colour of their baldricks. Broadwood's aim therefore was for their costume to be a) different, b) authentic and c) capable of easy and continuous availability.
Roy Dommet (a well known authority on Morris) had notes about the original Longborough side wearing black top hats and moleskin britches - moleskin was not easily available and would be too expensive, so corduroy (also a traditional material) britches were found in a local Horsham outfitters.
Harry, the side's first Bagman (and one of the two founders) wrote to Moss Bros. in London asking about top hats. They couldn't supply black but had a number of grey hats - rejects from the Hire Dept - which they would let us have at 15/- (fifteen shillings = 75p) each. Harry drove up to London and collected 19 hats from the Manager, who was delighted to help in the foundation of a Morris side. We still obtain our hats from similar sources, but britches are getting more difficult - the usual solution is to buy corduroy trousers and cut them down!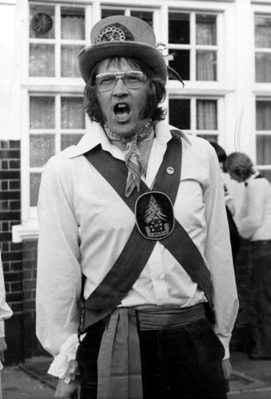 Young 'Old' Harry modelling the
Broadwood kit in glorious Technicolour!
The wife of one of the original members (Ian) chose the side's colours of green, brown and gold (yellow). Denis, the other founder's (and first Squire) wife produced the first baldricks.The badge on the front and back of the baldricks is the badge of the Tschudi-Broadwood family. Harry had to seek the permission of the Royal College of Heralds to wear the badge.
The badge shows a pine tree with nine gold pinecones and crossed arrows on the tree trunk. It is the emblem of the Swiss aristocratic family Tschudi. In 1769 John Broadwood married a Swiss heiress of that family and united the two families. The story behind the badge is that a young Tschudi nobleman was walking in the mountains when nine vagabonds set on him. To defend himself he uprooted a pine tree. In the morning a shepherd found the dead nobleman with nine dead vagabonds.